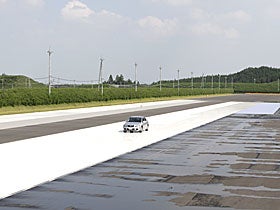 Suited for investigating how the vehicle behaves on road surfaces of different friction coefficients and how the vehicle's behavior changes according to different tires and braking systems. Surfaces of three different μ values are made available with the help of an extensive sprinkling system. Equipped with rows of lights for testing at night.
Main test items
Road-holding ability in relation to surface friction
Braking performance test
Hydroplaning test
Specification
Three specially paved surfaces are provided in an asphalt road 1,410m long and 50m wide (acceleration segment: 700m long).
Special surfaces: Paved with ceramic tiles to give different μ values
μ = 0.45: Length 200m x Width 5m
μ = 0.30: Length 200m x Width 10m
μ = 0.10: Length 100m x Width 7m
Surface wetting: Use of sprinklers
Initial sprinkling nozzles: 22
Main sprinkling nozzles: 360
Banking: 0.5%
Designed load on wheel: 6 tons
Safety strip width: 10m