Regarding passive safety, JARI conducts wide ranging tests including the collision testing of passenger cars, buses, trucks, motorcycles and bicycles, the sled testing to assess rearend crash protection and the protective performances of child restraint systems, and the impactor testing to evaluate head and leg injuries for the protection of pedestrians. We also carry out impact tests on automotive materials and components. Our equipment related to passive safety includes the crash experiment facility, HYGE sled test setup, pedestrian protection and pendulum impact testing apparatuses.
① Vehicle crash testing
In addition to the head on crash testing with the test vehicle tugged to collide into a concrete wall or a barrier at a designated speed, JARI implements side and rearend crash tests and the tests simulating vehicle collisions with a motorcycle, a bicycle and a pedestrian. Vehicle crash tests with road structures are conducted at our special testing facility.
② HYGE sled impact testing
Using pneumatic impact testing equipment, JARI evaluates the safety and strength of test samples placed on a sled against impact. Sled impact testing is applied chiefly to determine the protective performances of child restraint systems and of automotive seats against whiplash.
③ Component testing
Component testing is applied to various components of the vehicle body, and can be divided into dynamic tests involving actual impacts and static tests involving the application of a constant force to observe any strain and deformation. Dynamic tests outnumber static ones at JARI, as demand is growing for assessing the safety of pedestrians thrown onto the bumper, hood or other automotive components.
In the area of active safety, vehicles need to be evaluated with regard to their running, turning and stopping performances. JARI can undertake a diversity of tests on braking, visual field, lighting, tires, vehicle motion, driver assist systems. Our associated facilities and equipment include mock roads, driving simulators, and tire testing equipment.
④ Roadholding ability testing
Roadholding ability involves the basic vehicular motion of running, turning and stopping. The TRIAS braking test is mandatory for the registration of vehicles. Anti skid systems are tested using a steering robot, while there are a variety of tests dedicated to the assessment of tire properties at JARI.
⑤ Research and public work for accident reductio
模擬市街路やEmploying its mock roads and driving simulators, JARI performs accident replication experiments to determine the accident mechanism. We investigate high risk traffic locations and produce danger maps for school children, and provide hands on traffic safety education for children in cooperation with adult volunteers.
⑥ Machinery management, calibration and programming
In order for the above wide ranging tests to take place, it is essential to maintain and calibrate the necessary measuring instruments (e.g. accelerometers), sensors (e.g. load cells), data recorders, biofidelic dummies. At the same time, software needs to be programmed to elevate measurement accuracy.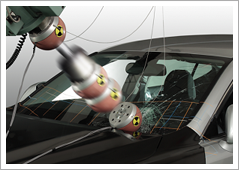 An impact test for pedestrian head protection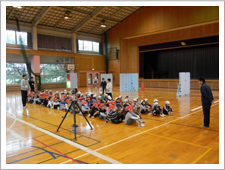 A scene of traffic safety education at school