Functional Safety (ISO26262)
---
What is the ISO 26262 functional safety standard?
Today's cars are equipped with scores of integrated E/E systems that require the assurance of safety at the system level. Functional safety is defined in Part 1 of ISO 26262 as "the absence of unacceptable risk due to hazards caused by malfunctional behavior of electrical and/or electronic systems". This standard is aimed at reducing to an acceptable level hazards that might cause harm to the driver, passengers or other traffic system users. This is to be accomplished by providing fail-safe mechanisms and other safety functions in the event an E/E system should fail.
ISO 26262 is based on IEC 61508 and consists of ten parts numbered from 1 to 10. It has been established to address the unique needs in the area of automotive E/E system applications. This ISO standard applies to series production passenger cars with a maximum gross weight of up to 3,500 kg.
Illustration of typical E/E systems (onboard ECUs) on today's passenger cars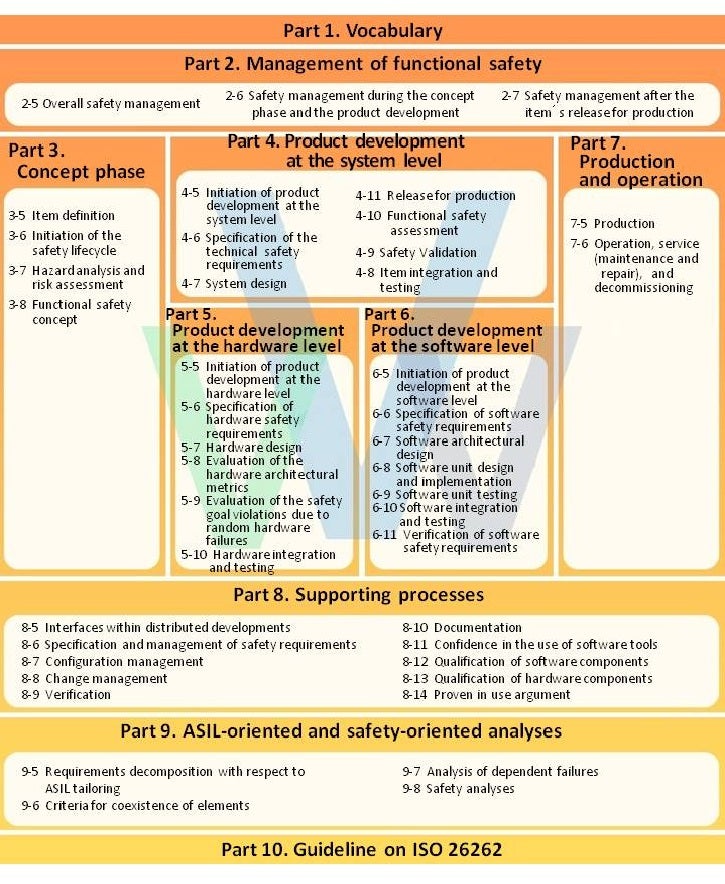 Overview of ISO 26262
---
JARI's activities related to ISO 26262
JARI formed an in-house ISO 26262 advisory committee in March 2011, recruiting members from finished vehicle manufacturers and auto parts makers. Under the joint research activity, information was shared on issues and associated measures involved in the operation of the standard, with the cooperation of the Japan Automobile Manufacturers Association, Inc. (JAMA), the Society of Automotive Engineers of Japan (JSAE) and Japan Automotive Software and Platform Architecture (JASPAR). A joint research program was launched with participation from more than 20 companies, and working group activities were carried out to help interpret the standard and to conduct workshops. The quality management methods Japanese companies have implemented to date can be used effectively in implementing ISO 26262, and the possible use of third-party assessments is now being examined along with other related matters.
In September 2011, a partnership mainly for technical cooperation was formed with the Motor Industry Research Association (MIRA), an automotive consultancy company that is located in the United Kingdom and participated in the development of ISO 26262. Efforts are under way to incorporate the knowledge and experience of European organizations that have been the leaders in activities for functional safety.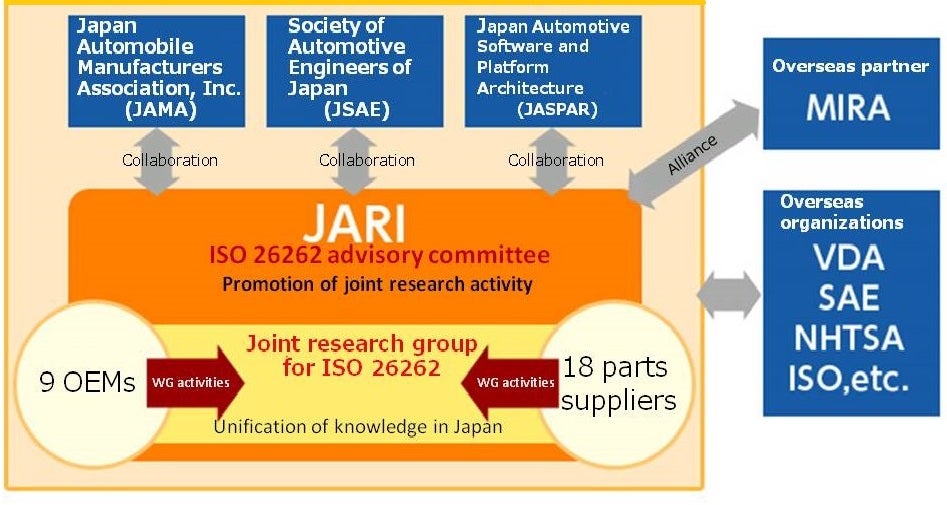 Joint research activity for ISO 26262
---
Publication of a practical guide
One of the joint research working groups prepared a practical guide to Parts 2, 3, 4 and 5 of the ISO 26262 standard, which is to be published by JARI and will be available for a fee. Once the ordering method and other details have been decided, the information will be posted at JARI's website.
---
Previous activities
JARI has been engaged in research on automotive functional safety since the 1990s under a project commissioned by the Ministry of Land, Infrastructure, Transport and Tourism of Japan to conduct research studies concerning the development of safety standards for electronic control systems. Since 2005, JARI has been participating in a functional safety working group sponsored by JSAE and initiated a study of ISO 26262. Since 2008, JARI has been conducting research surveys toward the implementation of ISO 26262, including vehicle testing, in cooperation with JAMA and other organizations.
JARI's activities related to ISO 26262
---
Services related to ISO 26262
JARI provides functional safety training and consulting services incorporating the knowledge and experience of European organizations that have been forerunners in activities concerning functional safety. In this regard, JARI formed a partnership mainly for technical cooperation with MIRA in the United Kingdom in September 2011. MIRA is an automotive consultancy company providing research, testing and certification services and took part in the development of ISO 26262.
JARI has created various ISO 26262 training programs targeted at engineers engaged in product development at vehicle manufacturers and auto parts makers, managers responsible for product development, employees in quality control departments, employees in departments promoting process improvements, and managerial people responsible for authorizing and promoting company-wide activities. The specifics of these training programs can also be customized to match the circumstances of individual corporate customers.