What is an Automated Valet Parking System?
The automated valet parking system is a system in which a control center that manages the entire parking lot and vehicles is linked with sensors installed in the vehicles and parking lot to allow vehicles to get in and out of the parking lot at locations that provide convenient access to adjacent facilities and buildings. Using driverless operations, the system functions to move vehicles to designated parking locations, parks the vehicles, and drives the vehicles out of the parking lot.
Since the need to get in and out of the vehicle in the parking space is eliminated, doors do not need to be opened nor closed, which is expected to reduce the vehicle parking space and increase parking efficiency relative to the parking lot area. In addition, the elimination of the need to search for empty parking spaces is expected to alleviate the issue of wandering vehicles causing congestion in surrounding streets. In addition, since the parking space for driverless automatic valet parking is a dedicated use space that excludes people and regular vehicles, vehicle theft prevention and zero accidents in the parking lot can be simultaneously attained.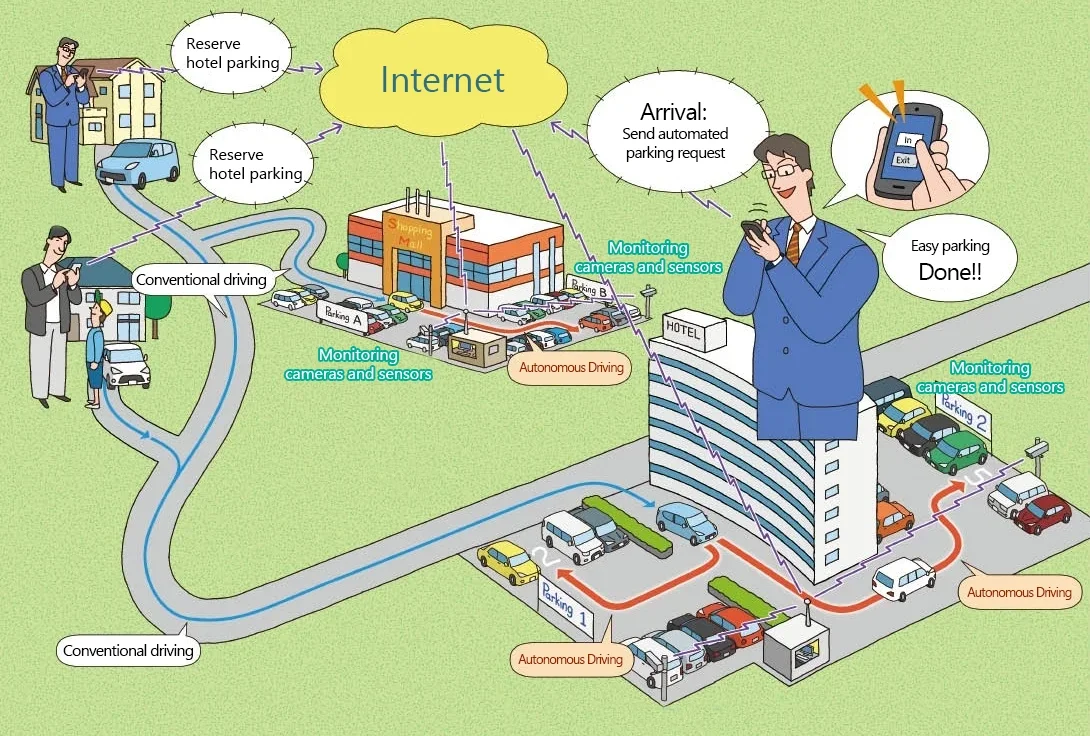 How automatic valet parking works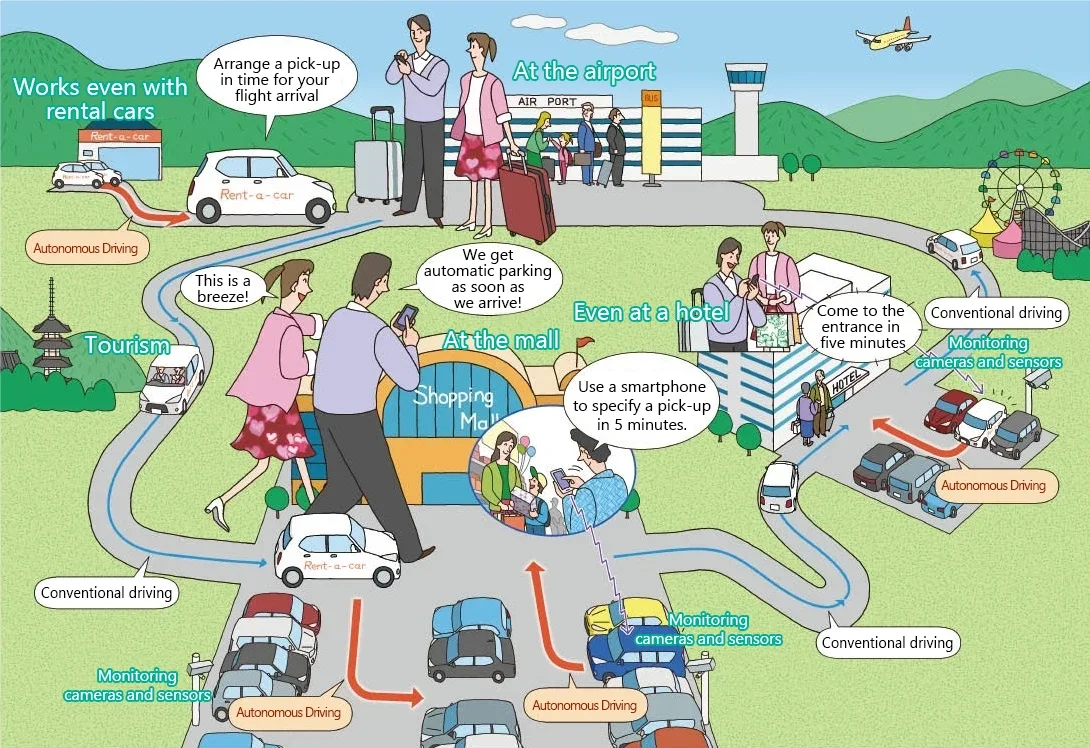 Use cases for automated valet parking (examples)
This video explains the purpose of the project and anticipated benefits of the project.
JARI conducts research aimed at the application and practical use to industrial vehicles of autonomous driving technology developed through the Energy ITS Promotion Project (research and development of autonomous driving and parallel-driving technology), such as automated valet research for the practical use of automated parking.
Activities
To achieve automated valet parking, the system consists of a vehicle capable of autonomous driving and automated parking, a control center that safely and efficiently guides the vehicle along its route, and parking infrastructure, including equipment and sensors to ensure safety in the parking lot, and the necessary cooperative integration of all three of these components.We are studying the optimal division of roles among these components, specifying standard specifications for the entire automated valet parking system, developing safety standards, control technologies, and operation management technologies that can be used as standard by each primary participant, and developing simulations to verify the effectiveness of these technologies.
In addition, since international collaboration is an essential aspect of implementing this system, we will actively propose international standardization of the specifications, and even make use of simulation technology to verify the social benefits, such as easing traffic congestion on roads surrounding parking lots and reducing wait times to enter parking lots.